TL;DR: Base is gearing up for a mainnet launch with safety and security as our top priorities. Our launch criteria include demonstrated testnet stability, Optimism's successful upgrade of Bedrock, and completion of reviews and audits. As a reminder, Base has no plans to issue a network token.
Earlier this year, we announced the testnet launch of Base, an Ethereum Layer 2 (L2) network built on the OP Stack that offers a secure and low-cost way for developers to build decentralized apps onchain. Base is incubated by Coinbase, whose mission is to increase economic freedom and opportunity around the world. To advance this purpose, Base is providing a platform to onboard the next million developers and billion users into the cryptoeconomy.
We've been building towards Mainnet Genesis, the first step of delivering a decentralized platform that scales Ethereum with fast, low-cost and secure transactions. As we prepare to upgrade from testnet to mainnet, we want to build in the open and keep the community informed of our roadmap and status.
The Incredible Builders on Base
Since testnet, we've seen tremendous reception from the developer community and projects deployed on testnet across a myriad of use cases: Gaming, NFTs, Infrastructure, Developer Tooling, Wallets, Security, DeFi, Oracles, Analytics, Bridging, Payments, DAOs, Social and more.
Watching the community has been so inspiring for our team — so we wanted to share some of the most exciting, novel things we're seeing.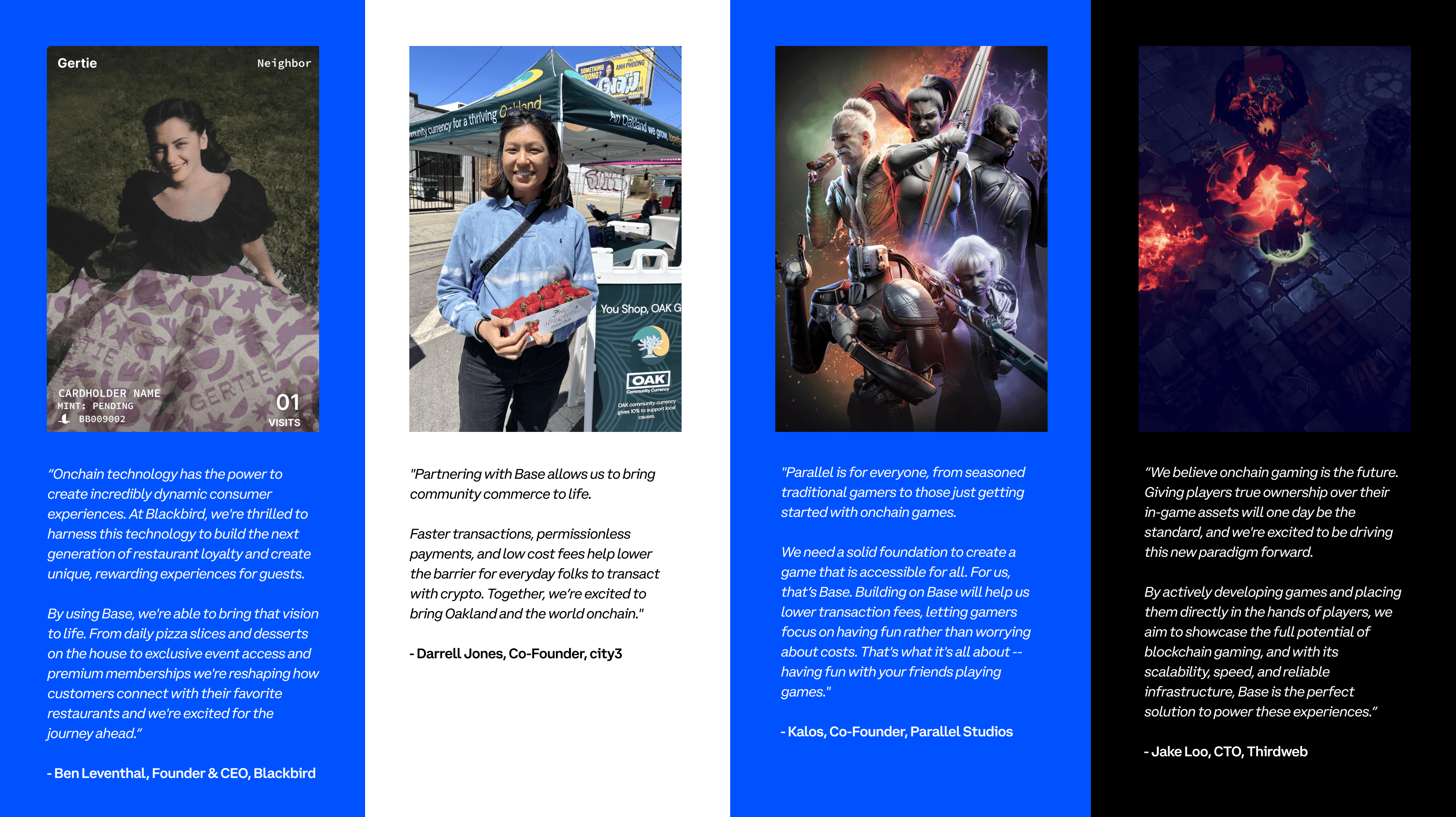 Base Mainnet Genesis Criteria
Building a blockchain is a complex form of engineering and our approach for the mainnet launch draws inspiration from other launches of similar complexity: rocket ships and other blockchains like Optimism. Space organizations run methodical processes for communicating their launches. Optimism's diligent, well communicated launch approach for its upcoming Bedrock release sets a strong example for how chains can clearly communicate their upgrade plans.
Our most important priorities are to ensure the safety and security of the network, followed by clear communication so developers can prepare. Timely mainnet deployment ranks third.
As a reminder, the Base testnet has been running since 2/23. Check out our documentation to explore our testnet and begin building. During the testnet window, we've focused on:
Auditing the OP Stack and Base infrastructure to increase platform security

Load testing the OP Stack and Base infrastructure to ensure we can support scale

Ensuring a high-quality developer experience

Onboarding new folks with educational content like Builder Quest and Base Camp
As we approach mainnet, we've defined  a set of criteria that we need to complete in order to unlock our launch:
Successful Regolith hardfork completed in testnet (completed)

Successful infrastructure review with OP Labs team (completed)

Optimism's Successful upgrade of Bedrock

Successful completion of internal and external audits with no critical severity issues

Demonstrated testnet stability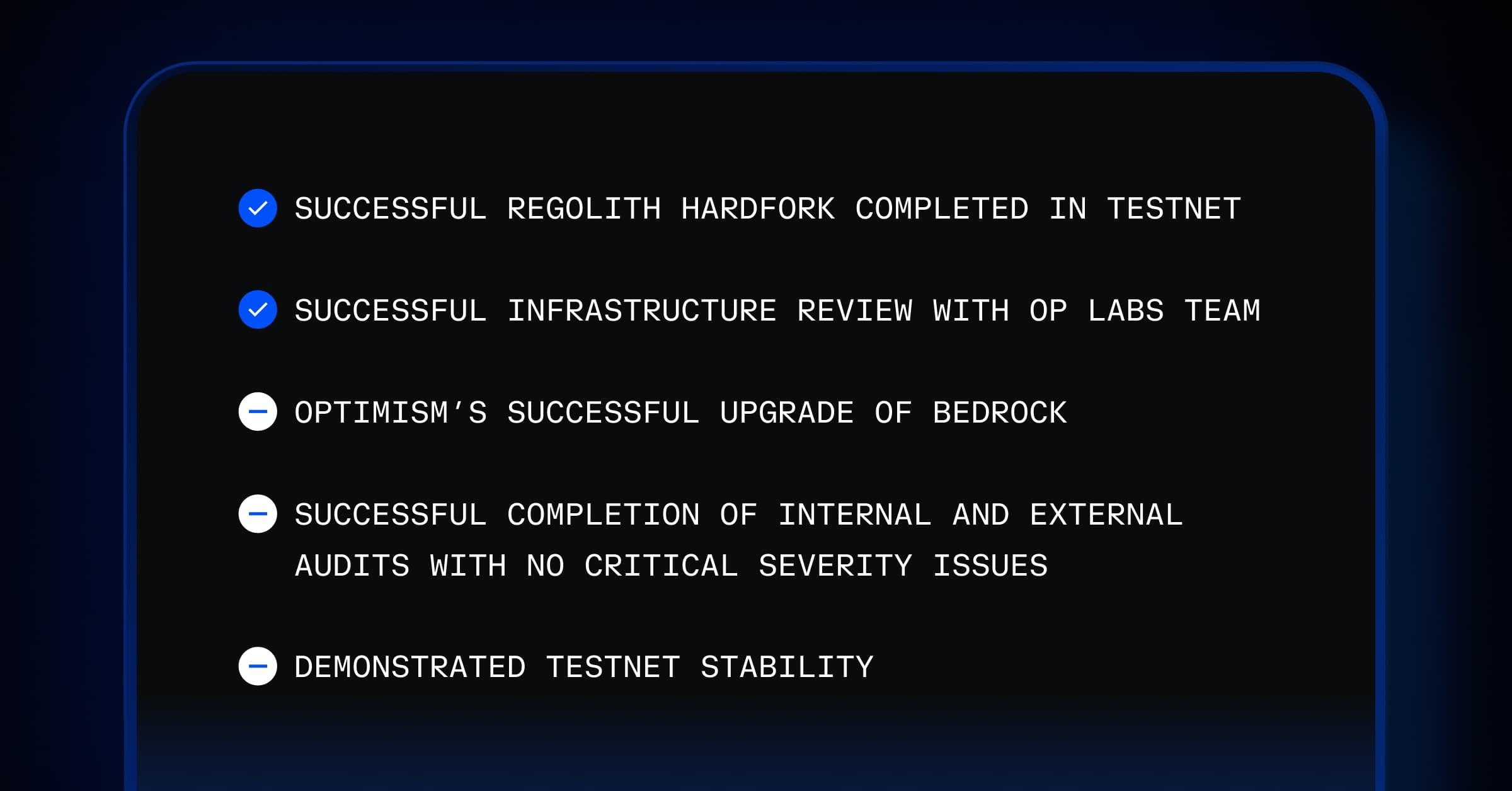 What to Expect Post Launch: Genesis Window
Following Mainnet Genesis begins our Genesis Window — a focused, coordinated window for developers to deploy dapps on Base mainnet. During this window, we will be exclusively focusing on developers and providing support to ensure they are successful.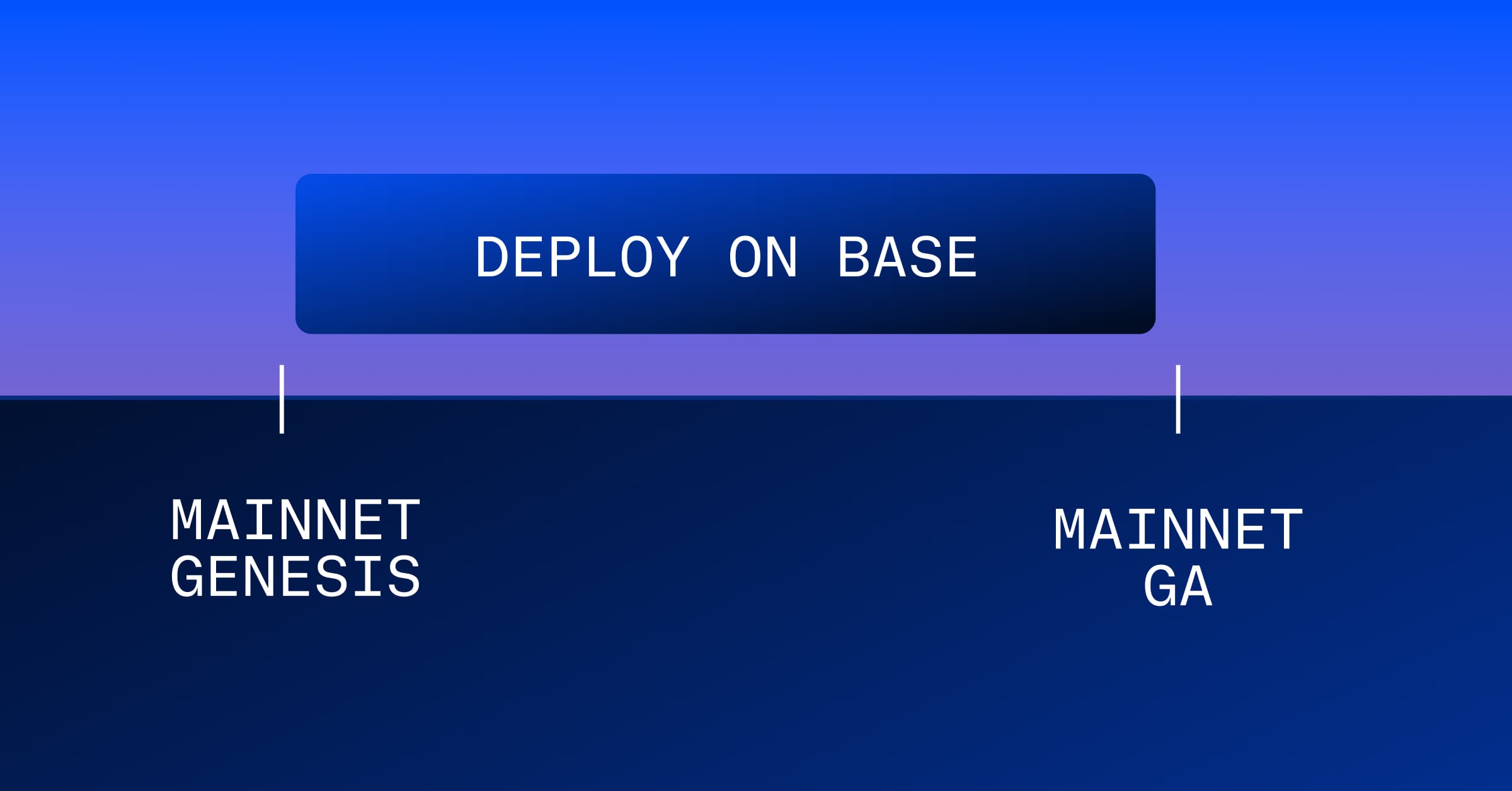 Our goals during this window are to ensure that developers can:
Deploy with confidence: During the genesis window, developers will be able to begin deploying their dapps to Base securely, easily, and reliably.

Get fast technical support: The Base core team will provide hands-on support via Discord to any dapp deploying during this window.

Receive recognition for being a genesis builder: We'll be supporting and recognizing the early dapps that launch on Base mainnet during this window.
Mint the 'Path to Base Mainnet' NFT
Base has an ambitious vision – bringing the next million developers and billion users onchain. We're at the very beginning of this journey, and we would love for you to be part of it at every step. Today is the first update we're sharing on our path to mainnet. Mint your "Path to Base Mainnet NFT" to commemorate this moment.
Stay Connected
As we get closer to the mainnet launch, we'll keep you updated on our progress and share a timeline update so you can prepare. In the meantime, we encourage you to continue building on the Base testnet.
Start building on Base today at base.org. Follow us on Twitter and join our Discord community for the latest news and updates.