By Jesse Pollak
TLDR: We're thrilled to announce that Base mainnet is now live and available for everyone. At launch, there are 100+ dapps and service providers available in the Base ecosystem, as well as deep integrations across the Coinbase product ecosystem. Anyone can explore dapps on Base with near-zero gas fees, fast speeds, and secure transactions settled on Ethereum.
Base was created with a clear vision: bring the next million builders and billion users onchain. This serves to accelerate a global, decentralized financial system that will increase economic freedom around the world. Since our testnet launch in February and developer launch in July, we've seen the foundation of a vibrant ecosystem take shape, including projects deployed across onchain finance, art, and music. We've also seen new use cases that push the limit of what's possible: restaurants, games, communities, and advocacy. And we've had an opportunity to work with some of the leading wallets, bridges, security providers, oracles, and analytics services that enable developers to build resilient dapps. Together, we're excited to go live with more than 100 projects and dapps available on Base today —  head over to base.org/ecosystem to explore what's live.
We encourage builders to create amazing onchain products people will love, while we work on distributing those products to people all over the world. We believe this vision benefits everyone: builders, creators, businesses, and every day people.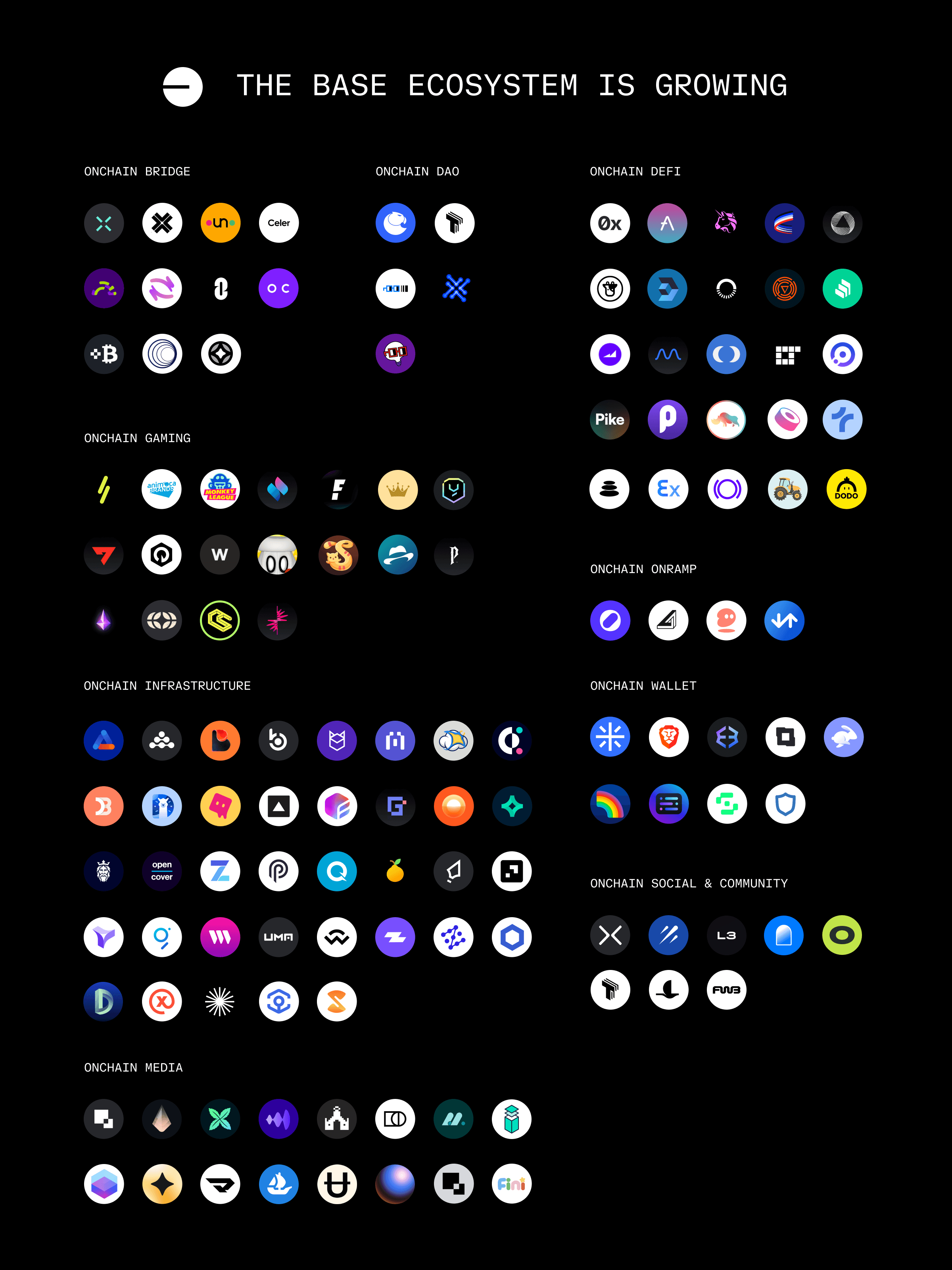 Onchain is the next online
We built Base because we believe that onchain has the potential to update our financial system and transform the future of the internet.
In the early 2000s, the internet first transformed the world. For the first time, developers were able to build applications that connected people no matter where they lived, bringing them together to read, write, and share information. This unlocked incredible new products, including streaming, search, social media, smartphones, and more. Today, we believe we're on the verge of the next massive transformation: onchain. Onchain is the next generation of the internet that will increase economic freedom globally by putting ownership back in the hands of everyday people — and it's growing fast.
Onchain users are growing, with over 230 million unique Ethereum addresses globally and daily transactions on Layer 2 (L2) surpassing Ethereum's Layer 1 (L1) transactions. This expansion extends to developers too, with onchain projected to generate one million new software engineering jobs worldwide by 2030, according to Electric Capital. Onchain use-cases are expanding, including Zora for collectibles, Blackbird for restaurant loyalty, Farcaster for social media, Parallel for gaming, and XMTP for messaging.
Onchain Summer begins with Base Day One
Onchain Summer kicks off today to mark the launch of Base Mainnet. This multi-week onchain festival celebrates onchain art, culture, music, gaming, and more. Explore daily mints and stories brought to you in collaboration with 50 of the world's leading builders, brands, creators, and artists. And join in on the effort yourself with 100+ ETH in grants for those building and creating on Base this summer, in collaboration with PropHouse, and participate in Superhack, featuring $175,000 in prizes in collaboration ETH Global.
Participate in the start of Onchain Summer by minting "Base, Day One", a commemorative NFT that celebrates the launch of Base mainnet and welcomes everyone, everywhere to join us as we work to bring the world onchain.
Then come back to onchainsummer.xyz every day for more — including some incredible mints we have lined up for the rest of the week: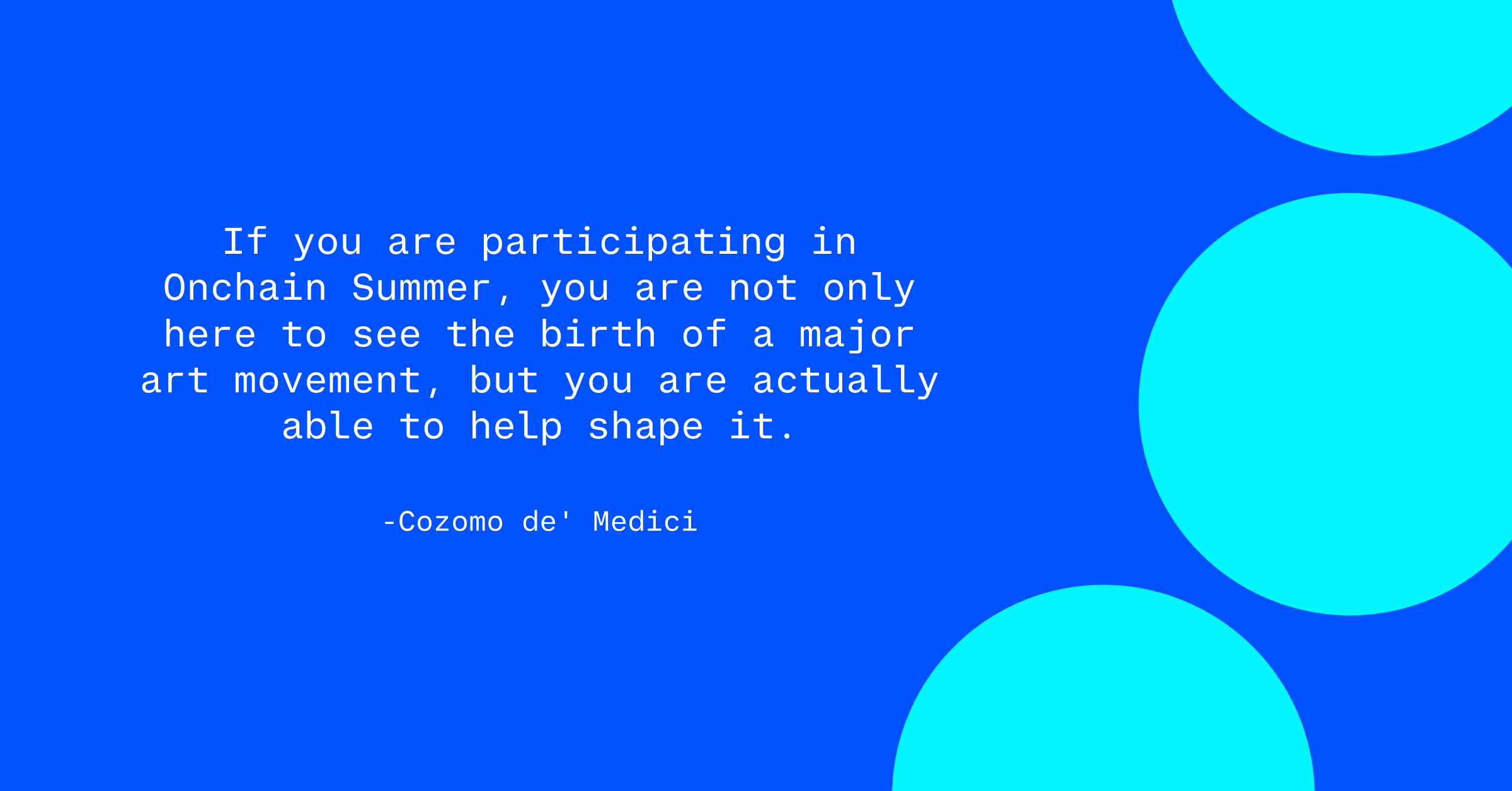 Head over to base.org/ecosystem to explore the dapps available on Base today. Check out onchainsummer.xyz to experience the best of onchain art, music, and gaming for the rest of August. And follow Base on Twitter for updates.
This is just the beginning —we're so thankful to be with you on this journey to bring the next billion people onchain.